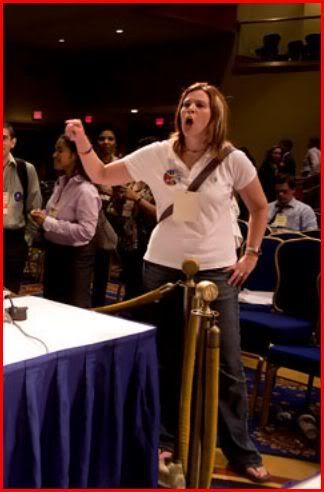 In the new hit operetta buffa, The Thief from Chicago, Kim Frederick sings the aria O! Mia Pista Offa! It follows the rejection of the argument she made in the plaintive recicative Whole Chairs for my People, about the Florida and Michigan delegations.
The entire operetta, in several hundred acts, has been playing around the country since the beginning of the year when it opened in Iowa.
Thousands have thrilled to the intrigue of Bill and Hillary's duet A Shiv for Barry, which appeared first in South Carolina but has been featured several times since then. It recalled for many the Pearlfishers' Duet as sung by Jussi Bjorling and Robert Merrill.
And who can forget Hillary's coloratura rendition of He's a Black Man After All! There is remarkable staging for this aria, particularly, with a sinister black man in a turban who wields a sword menacingly in the background as Hillary sings.
Presently, all signs point to a denouement soon. When it comes, Hillary will sing the achingly sorrowful I'm Too Old to Be a Ballerina, and the stage will go momentarily black.
Then, with a cacophony of dissonant chords from the orchestra, the chorus and all the extras will stream off the stage, spitting the epithet McCain! McCain!